What benefits were you hoping to receive from your yoga practice?
I started practicing Vinyasa style yoga about ten years ago when I was living in Portland, Oregon.

At the time, I was running and swimming a great deal and consistently experiencing muscle and joint pain. I remember that my first yoga class was a revelation.

I had grown up dancing, but not actively concentrating on how the poses felt as opposed to how they looked. After my first week of yoga, I began attending classes more frequently and soon became a devotee." – Catherine

How has yoga and your practice exceeded your expectations?
From the outset, yoga has exceeded my expectations in so many ways. It has improved my posture, my physical resiliency, and increased my energy. I always look forward to class. When I step into the hot room, I immediately feel both relaxed and ready to work, stretch, and grow as a person." – Catherine
How has yoga benefited you off the mat?
I have a very busy life, having moved back home to Orange County three years ago. Since then, I've launched a marketing business, written a novel, and started performing as a classical soloist and a jazz singer. I'm also a single mom, so time is precious.

But getting to yoga daily or weekly is what keeps me present and focused when I'm off the mat. Since I've started doing the sculpt classes as well, yoga has replaced other forms of exercise, which gives me more time during the day." – Catherine
Do you notice a change in your physical, mental, emotional and or spiritual body from a regular yoga practice?
Yes, when I'm practicing regularly, I can see that I have more mental clarity in all situations. It has given me the ability to stay calm and centered, even in the face of challenge and adversity. The concept behind the physical branch of yoga is that it calms the body so you can meditate and focus.

And yoga has done just that for me. It has also strengthened my ability to connect with other people and led to an interest in a variety of spiritual practices, all of which have been greatly enriching." – Catherine
Have you tried other styles of yoga? What makes Radiant Hot Yoga your preferred place of practice?
I've tried many styles – Vinyasa, Iyengar, Bikram, Ashtanga, Mysore, Yin, and have seen benefits from all. I'm drawn to the heated classes at Radiant because I find I can move deeper into the poses and receive a very satisfying physical and mental work out.

I enjoy the mix of Vinyasa and Bikram styles as they provide a nice variety of poses. The sculpt classes are also a favorite, combining yoga with strength training and cardio. And of course, the atmosphere at the studio is so warm and welcoming, and the teachers so caring, it's always a pleasure to walk in and see so many smiling faces.  Radiant truly is an exceptional studio." – Catherine
What benefits were you hoping to receive from your yoga practice?
When I first started at Radiant I wanted to experience a studio dedicated to hot yoga. I had heard that it was very challenging but also very rewarding, and that is exactly what it is and continues to be." – Jeremy

How has yoga and your practice exceeded your expectations?
I honestly didn't think I would love it so much.  Making it through a class is physically and mentally challenging.  The fast pace and focus on mastering a specific set of postures keeps me interested and makes each savasana all the more rewarding." – Jeremy
How has yoga benefited you off the mat?
I have more patience & less stress off the mat. It's a great way to end the day and flush everything out with the heat." – Jeremy
Do you notice a change in your physical, mental, emotional and or spiritual body from a regular yoga practice?
Absolutely. I feel a mental, emotional, and spiritual peace after each practice. I still can't put my finger on it, but something happens – something is released in the sweat that pours out of us in each class.  The crazy thing is before Radiant, I was not a heat person at all.  Now I put up with heat a lot better and as far as yoga goes – I crave it.  I've also changed the way I think about exercise.

Before, I exercised not because I liked it but because I thought I needed it. Now, every day is different, with each offering a new awareness of my body." – Jeremy
Have you tried other styles of yoga? What makes Radiant Hot Yoga your preferred place of practice?
I've done non-heated and heated yoga in the past, and usually gravitated towards the heated classes – I just really like a challenge!  What makes Radiant Hot Yoga my preferred studio is the structure of the classes, the positive energy, friendly members, and the team of caring and passionate teachers who are some of the best people I've ever met." – Jeremy
When and why did you begin practicing yoga?
It's an amazing feeling to give yourself moments of undivided attention and to truly connect. Ever since my first class I have been on the journey of healing. Yoga has healed me from my past. I started practicing yoga in 2006 and at the time my family and I were going though a lot. It was the hardest time of our life. I saw how yoga changed my mom's life and it inspired me to try a class.

Throughout my first class, I felt so present in the moment. I felt the energy around me, my breath, and was able to release everything that was no longer serving me. Words can't describe how grateful I am for this journey I am on and all of the incredible people who have inspired me along the way." – Skyler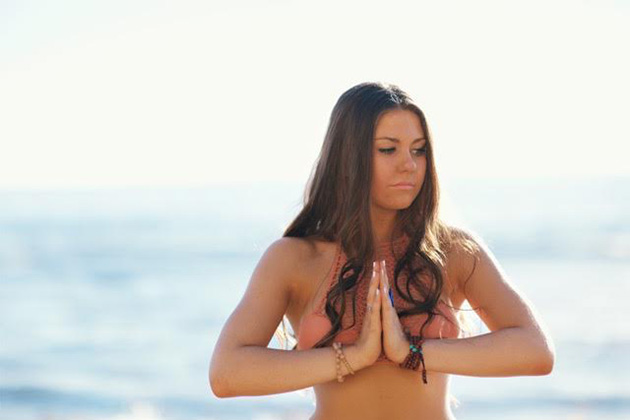 How has becoming a teacher changed your life?
It has encouraged me to step outside of my comfort zone. In 2013, I became the youngest certified hot yoga teacher in the U.S. I had to make my own path, and create my own standards and expectations. Even though it feels very natural for me to teach yoga, I use the same principles in other areas in my life. Teaching yoga has also brought so many amazing people into my life. The connections I have made and continue to create are truly special to me. " – Skyler
When did you know you wanted to be a yoga instructor?
I knew I wanted to be a yoga instructor ever since my family opened up Radiant Hot Yoga, in 2013. I always loved taking classes and I had such a passion for yoga. I remember teaching my fist class as if it were yesterday. Throughout the class I had a magical, euphoric feeling and as I said my final speech at the end of my class, I suddenly had tears of joy running down my face. Right there, I knew that I wanted to teach yoga for the rest of my life.

A feeling of deep gratitude filled my heart and ever since then my passion for yoga has grown more and more." – Skyler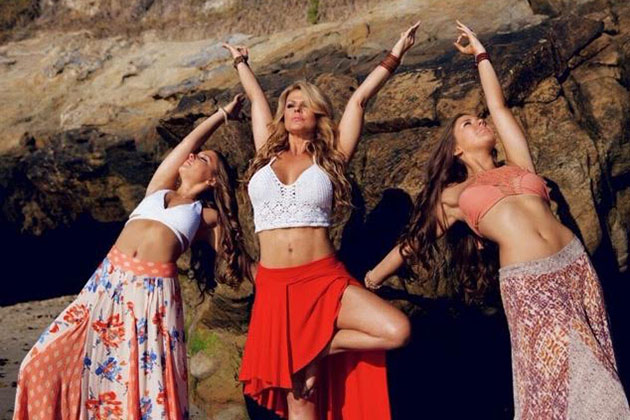 What did Teacher Training mean to you and what did it do for you?
Teacher training changed my life in so many ways. I took the training not only to become a teacher, but to also deepen my own practice and to discover more about myself. It was definitely challenging though.

At the time, I thought I I was too young to become a teacher because I didn't know enough about yoga or the body, but I proved myself wrong. I completely dove two feet into the training and immersed myself into yoga. Having to go to school for nine hours a day, then spending over 35 hours a week on yoga training took a lot of energy, sacrifice, and time.

But what I learned from the challenge is, "If you believe in yourself, you can do anything" and that "There is never a dream too big or too small you can not accomplish if you try." – Skyler
How necessary is your yoga practice to you?
My yoga practice means so much to me. I feel that I would not be where I am today, if it wasn't for my practice. My yoga practice has taught me so much about who I am. I know I can always come to my mat to heal my body & soul, to let go and to move deeper within. It is an amazing work-in and an awesome workout.

Every time I come to my mat, I learn more abut who I am and what my purpose is." – Skyler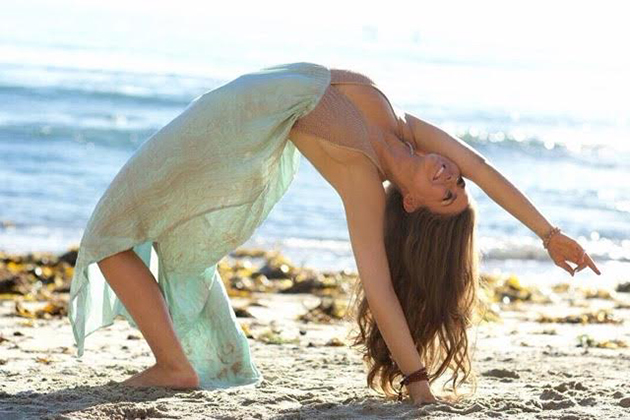 What do you feel is the personality and energy you bring to your classes?
I am very passionate and joyful spirited. I love teaching and challenging people to their edge. When I am in the hot room teaching there is a great energy, a connectedness between myself and everyone in the room. Unity and love, I feel so alive and happy. I aspire to inspire by my words, the music I play, and the energy I bring to my classes. I am so fully present that it feels as if nothing else exists outside those walls." – Skyler
What are a few of your favorite things to do outside of yoga?
When I'm not at Radiant, I'm either at the beach, finishing up school, getting a massage, or spending time with those I love. I also LOVE traveling and seeing all different parts of the world.

Everyday gift to be able to live my dream! Namaste ॐ" – Skyler