What benefits were you hoping to receive from your yoga practice at Radiant Hot Yoga?
At the time I first signed up I was really wound up from several months of 90 hr work weeks. I was feeling like I was full of sand, my muscles ached all the time. I was hoping to stretch and release that tension, if nothing else go to physical exhaustion so I could actually relax, not just zone out. I was feeling defeated, sluggish and overwhelmed. I was looking for something to help me out of that feeling." – Frankie W.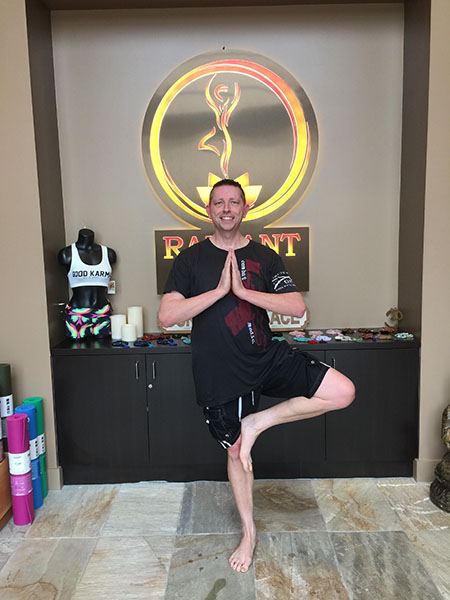 How has Yoga and your personal practice exceeded your expectations?
Not only was I able to relieve the stress from work, but also some of the aches and pains I've had for years have gone away. I had a muscle cramp in my right leg for a few years, I just though that was the way it is, I took muscle relaxants when it got really really bad. All that has changed and I haven't taken those pills since I've started practice. Most importantly, being ADHD my whole life I have gotten a peaceful mindset during a one hour session that it would normally take me 4 or 5 hours of walking to do." – Frankie W.
How has Yoga benefited you off the mat?
I am more peaceful and focused, I stand up and sit up straight. I am more present in my body. So I have had an eating disorder since I was little, I've spent my life gaining and losing the same 100 lbs over and over and over. One of the things that I've noticed is that I am aware of my body, I don't feel like I am fighting against it anymore.

It has helped in my being present in my body and paying attention to my postures created an awareness I hadn't had before." – Frankie W.
Do you notice a change in your physical, mental, emotional, and/or spiritual body, from a regular Radiant Hot Yoga practice?
Not only has my physical body changed and become stronger, I have good posture now, my mental clarity and focus has been like never before, but there has been emotional benefits as well. Most recently, out of the blue, without any conscious effort on my part, a really painful childhood memory came out one day during class. I didn't freak out but just let it ride like a wave, knowing it would pass and I cried for the first time about that issue. It's never returned, and I feel like I made peace with that moment in my past." – Frankie W.
Why is Radiant Hot Yoga your preferred studio/home away from home?
Do you remember that TV show Cheers? It's nice to go where everyone knows your name. The staff at the studio are a direct result of Darlene's intention of creating not just another yoga studio but a community for those who choose to call Radiant their home. I am so honored to call RHY my home studio." – Frankie W.
What is your favorite yoga pose, and why?
Favorite Yoga Pose? Downward dog. When I first started I couldn't do it for more than a few seconds and had to use my fist as it hurt my hands to hold myself up. Now, I feel so powerful in that position. My upper body strength is so different than when I started." – Frankie W.