What benefits were you hoping to receive from your yoga practice?
I've been consistently practicing yoga since 2007. But during most of 2013 and 2014 the challenges and distractions of my life kept me off the mat.

Yoga is one of the special places I meet God, so I knew that after I moved from the East Coast to SoCal I needed to reconnect and recommit to it." – Sanyika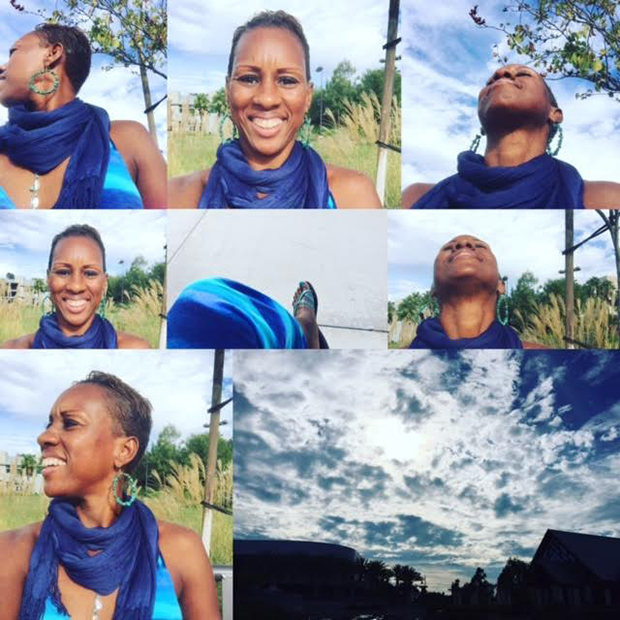 How has yoga and your practice exceeded your expectations?
I love Jesus and Yoga (in that order) so when I began to refocus on my mind, body and soul connection post-divorce and after the complete shake up of life as I knew it; the only thing I could offer was a fragile heart and lots of fragmented pieces.

Daily I came to the mat and prayed, allowed the postures to represent a moving meditation and let go of what I thought would be for what actually was. I yielded, I accepted, I cried, I surrendered. From a place of weakness I found strength, courage, restoration and resolve." – Sanyika
How has yoga benefitted you off the mat?
Most people think that I am a pretty "happy" person off the mat; sure I am happy when I get a great parking space, my hair looks cute with minimal effort, or I don't need to wear Spanks to get into my jeans; but all those things are circumstantial. Because I connect deeply with God on the mat, yoga allows me to offer a more accurate perspective of what is perceived as "happiness," which is that I strive to CHOOSE JOY no matter the circumstances.

Choosing JOY is gracefully accepting the version of life that you get even when it's not the version you want because you Trust in the working together of all things for your ultimate good." – Sanyika

Do you notice a change in your physical, mental, emotional and or spiritual body from a regular yoga practice?
My skin is glowing because I constantly sweat out toxins, my abs are tight (thanks Adham!), and my mind is clear and focused.

At 42 years old I am the most fit and functional that I've ever been and it just keeps getting better." – Sanyika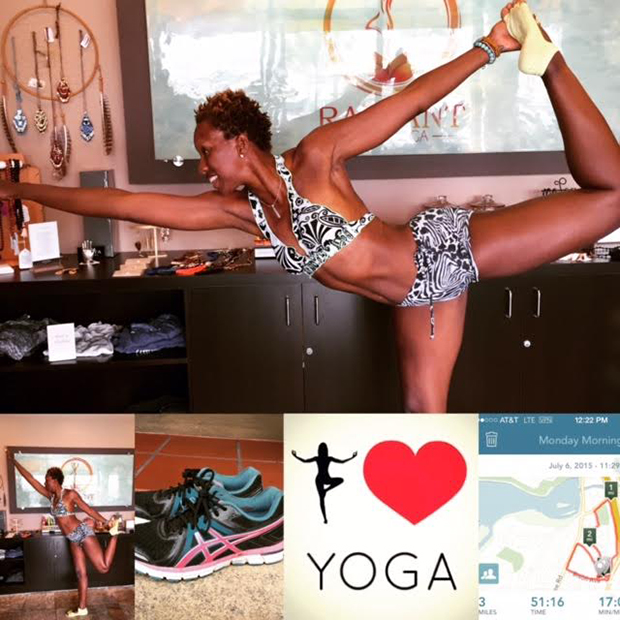 Have you tried other styles of yoga? What makes Radiant Hot Yoga your preferred place of practice?
From October 2014 to now I have practiced at RHY a whopping 270 times, it wasn't intentional at all, I just found myself on the mat at 2 or 3 times a day sometimes. Hot yoga makes me HAPPY. The Hotter the better, thanks Ericka for keeping your classes toasty, juicy, sauna like hot!

I love that at RHY mastery of a specific set of postures is the focus. When I first began the sequence, I thought I'd get board with it, but now I understand that every time I come to the mat my practice is different and there is a deeper level or enhanced variation that I can learn in the very pose that I've done hundreds of times. That's exciting and challenging!

And on the rare occasions when I practice other forms of yoga or poses, I find it's super easy to assume the postures with ease and little effort; not because I'm familiar with them, but because I have a level of mastery with the basics.

Plus, the instructors are ALL top-notch, the energy is amazing, and at Radiant Hot Yoga I have found genuine community in so so so many beautiful forms. There's nothing NOT to love here, it gels and fits with my soul like a snug yummy sweaty pair of Lulu's!" – Sanyika