Tag Archives:
yoga instructor
When and why did you begin practicing yoga?
I began practicing hot yoga in 2006. Yoga has had a profound impact on my life by providing me with a deeper understanding and appreciation for one's self and others. Although my practice started because of the physical benefits, today I practice daily for the inner work out, to connect to myself and release everyday stresses." – Ashley D.
What made you fall in love with Radiant Hot Yoga?
I love Radiant! And for so many reasons!! The heat, the teachers, the people, the entire community of yogis are friendly and supportive. I enjoy the experience of each class being different and challenging, yet somehow exactly what I need for that day. It is the highlight of my day!" – Ashley D.
How has teaching yoga changed your life?
Teaching has been one of the best gifts in my life! To have the opportunity to teach, connect, and motivate while living my passion is a dream come true. Teaching is the best – it has enriched and enhanced my life tremendously. I am incredibly humbled and grateful to be be a part of Radiant and the amazing community." – Ashley D.
When did you know you wanted to become a teacher at Radiant Hot Yoga?
I've always been a people person, and as long as I can remember have found myself wanting to positively impact and support others. I watched Teacher Training come and go for years- it always pulled on my heart, but I was too busy and committed to work to participate until I made the decision in 2016 to to commit to Teacher Training "no matter what"." – Ashley D.

What did Teacher Training mean to you and how did it change your life?
It was truly an extraordinary experience, physically, mentally, socially and spiritually. 8-weeks and 200 hours of intense training not only learning so much about yoga, the niyamas, and yamas, and the body but also a deeper understanding of the self. I am so grateful to have been part of the  teacher training and created so many strong bonds and memories with friends that will last forever." – Ashley D.
What are a few of your favorite things to do outside of yoga?
Outside of the studio, I spend my time with my husband, dogs, friends, and family. I have a love for the beach, and enjoy being in the water. Music, traveling, and going to new places are some of my favorite experiences." – Ashley D.
What is one of your most cherished moments since you've become a teacher?
There have been many everlasting, and very special moments made in studio since becoming a teacher. I'll never forget my first class, I was so nervous, and it was a good size class!

Darlene and some dear friends were in the room. As soon as we got into table top something clicked and came over me, it was like an out of body experience- and I was watching myself teach. It was such an amazing feeling and the energy lasted the whole day. At that point, I finally had a instinct feeling that I was doing exactly what I was suppose to be doing in life." – Ashley D.
If there was one last thing you'd like to share with your radiant students, what would you say?!
"Ego says once everything falls into place, I'll find peace." Spirit says, "Find your peace, and everything will fall into place." – Ashley D.
When and why did you begin practicing yoga?
I began my yoga journey at 14 years old in Cabo. We focused on a three part breath for over an hour holding only 5 postures! Shortly after I joined a beginners yoga class at my gym. I grew up wishing I was in a sport, but never participated in one.

The feeling yoga gave me was that euphoric passionate drive and I knew right then this was my "sport". Yoga opened up my eyes to a whole new world of life. It truly is a part of my soul and I would not be the kind, loving person I am today without my practice, my yoga community, and my teaching." – Kelsey
How has becoming a teacher changed your life?
Before becoming a teacher I was extremely concerned of what others thought of me. I used to look at the world outside of myself to fill the empty places in my heart, but after becoming a teacher I realized it was up to me to fill those places in my heart. I now can say with confidence that I am fully embracing the woman I am, huge personality and all. I realized how serious I was taking life and now I have chosen to try my best to embrace this life to the fullest." – Kelsey
When did you know you wanted to be a yoga instructor?
I knew I wanted to become a teacher in 2010, but I was in nursing school and couldn't take the time out of school to train. Two days after I graduated nursing school I jumped right into Darlene's yoga Teacher Training.

The reason I wanted to become a teacher is because I tend to reflect on my life a fair amount and found that love is the basis of everything. From the bottom of my heart, my drive is to just make people feel loved, have a better day and walk out of the room feeling like they have a clear vision." – Kelsey
What did Teacher Training mean to you and what did it do for you?
Teacher training takes you out of your comfort zone. It breaks down walls and barriers within yourself and you have to just persist through the discomfort to get to the other side of it. I am truly so blessed to have been pushed the way I was during training and post training. It was physically and emotionally intense at times.

Once I completed it, it was like HOLY SMOKES! I just did that?! Teacher training shows you that your mind may play tricks and say you can't do it, but the truth is we are far more powerful than we ever could think. We just have to have faith that we can achieve anything we put our mind to." – Kelsey
What do you feel is the personality and energy you bring to your classes?
I feel that I bring spirituality, humor, and love to my classes. I want my yogis to feel nothing but love and that there is no judgement in the room. Sometimes the classes can be a challenge and when you find the faith in yourself and tap into that highest form of yourself you can feel pure bliss even in the challenging class.

I also like to laugh, A LOT. So in my classes I want my students to feel connected to everyone in the room and to laugh a little bit.. take the seriousness out of their heads to make room for encouragement." – Kelsey
What are a few of your favorite things to do outside of yoga?
Some of my favorite things to do outside of yoga is running, weightlifting, getting crafty with jewelry/house decorations and my RN job! I love to cook as well, I am a bit of a foodie :)." – Kelsey
Kelsey's Teaching Schedule
Newport Beach studio
Tuesdays and Fridays at 6:00 am
Tuesdays and Thursdays at 4:00 pm
Sundays at 5:30 pm
Sign up for her classes
Sign up now
When and why did you begin practicing yoga?
I was an avid runner for years, but due to many injuries I needed to find something that was non-harming to my body yet still felt like exercise. With hot yoga I found I could recreate the same feeling I got from running and do it in a gentler way for my joints.  And the peace and calm I found at the end of each practice was unparalleled." – Lisa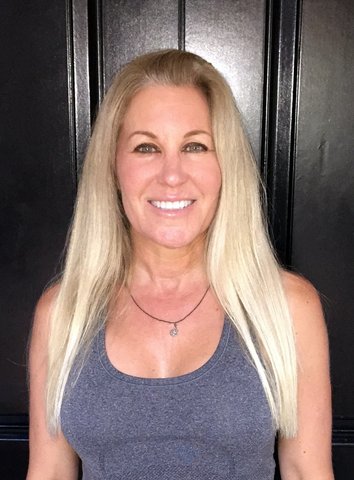 What was your first experience like?
My first yoga experience was in a Bikram studio and I felt like I was going to die half way through the series.  I had to lay down and just try to get through the heat.  But something about the challenge made me come back and try to master the heat again and through my persistence I fell in love with the practice." – Lisa
When did you know you wanted to be a yoga instructor?
I didn't know I wanted to be a teacher until the end of Teacher Training.  I entered teacher training purely with a desire to deepen my yoga practice and my understanding of yoga principles.

I never knew I had a teacher inside me! But at some point during training when I stood up to teach something clicked inside me and I knew I had a passion for teaching. Once I taught my first real class I was completely hooked." – Lisa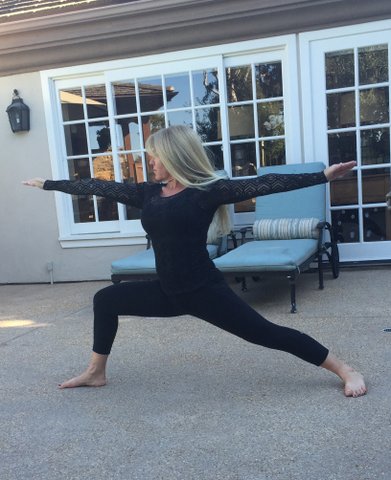 What did Teacher Training mean to you and what did it do for you?
I learned so much about myself and found I could actually command a room. I had always had the "behind-the-scenes" type of personality – never wanting to stand out in a crowd or be noticed. Standing up in front of a room full of my yoga peers really took a lot of strength and I found I enjoyed growing that new part of me." – Lisa
What is the one thing about Teacher Training that still resonates with you?
One thing that will always stick in my mind from Teacher training was living the ideal that we should always reach for our dreams and never give up. We are all capable of accomplishing goals we thought unattainable." – Lisa
How necessary is your yoga practice to you?
I always say "I am the Tin Man and Yoga is my oil. Without a regular yoga practice, I cannot easily move my joints and limbs due to so much injury. Yoga keeps me moving, feeling young and healthy and it keeps my mind more attuned.

And like the Tin Man – I have found my heart in yoga." – Lisa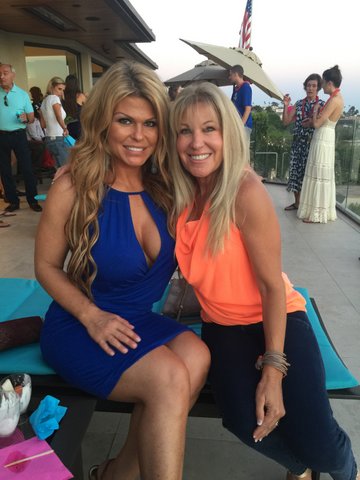 What do you feel is the personality and energy you bring to your classes?
I think my personality lends itself to a fun, high energy class.  However I also stress mindfulness. I ask my students to practice mindfully and consciously while still having fun and pushing themselves.

I care very much about my students and I want them to get the best and deepest practice possible, but without harming themselves. At the close of class I try to impart a little bit of wisdom about life and how it mirrors our yoga practice." – Lisa
What has changed the most about you now that you are teaching?
Teaching has helped me find my voice. I have more confidence and am more capable of speaking my views than I was before teaching. I know that in the hot room what I say matters to my students and I try to prepare messages that are both relevant to what is going on in our world and yet spiritual and inspiring." – Lisa
What are a few of your favorite things to do outside of yoga?
My favorite activity is skiing – mostly moguls, but cruising down a beautiful, groomed slope can be fun too. I love hanging with my family, my dogs, reading and being surrounded by great friends." – Lisa